Pretty Christmas serving tray
It has been a while since I updated my blog. I like to post reviews of things I bought from my Zazzle store here. I went for a long time without purchasing anything only because I had to ride out some storms in my life. Things are settling down now and I bought something the other day. It was something I would not even had thought to order at all. I got it cause I liked how the design looked on the finished item in the sample picture. I wanted to see how it would look like in real life. Oh my God! Eye poppingly gorgeous! I would have never known how pretty it was until I bought it. Well worth the money in my opinion for something that is unique and original and that not everyone else has. This tray starts out as a blank white background with a black frame. I placed 3 of my original heart drawings on it in red and white against a black background and placed the letters J-O-Y in them. I love non typical Christmas decor. I even own a black Christmas tree with Gothic ornaments. But I am gravitating towards a Red, white, and black color scheme this year. I just think the colors are so striking and look so elegant together. Here are a couple of pictures of my new tray.
The tray can be found here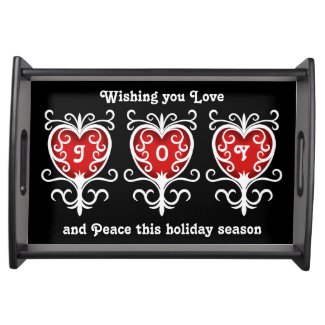 Joyful holiday season | Love joy peace Food Trays
by
TheHopefulRomantic
View another
Food Tray
at zazzle.com
The surface of the artwork is so super shiny. I love how this looked and I plan to hang this on the wall in the kitchen or dining room as It is too pretty not to show it off. If you decide you want one, click above. You can also remove my picture and replace with a family photo and add your own wording. It truly is a work of art. I hope you are all enjoying the holiday season.